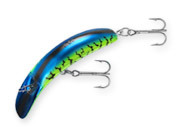 Walleye Lure of the Month: Flatfish
In the fall of 1933, Charles Helin unveiled an unorthodox creation to the fishing community. Helin fittingly named his lure the

FlatFish

, and it eventually proved worthy of his effort. The "banana-style" lure's fierce side-to-side action and unique shape has earned the FlatFish a secure place in fishing history. So secure a place, in fact, that the FlatFish has become among America's best selling lures of all time. According to the manufacturer, an impressive 40 million of their lures have been sold to date. Over the decades the FlatFish has produced trophies representing the entire spectrum of game fish found in both streams and lakes.
Over the past seventy years, the FlatFish has grown from a single prototype, that Charles Helin first turned out on a home lathe, to a vast line of high quality fishing lures. The FlatFish comes in sizes ranging from a modest one-inch lure to a mammoth six-inch muskie version. There are fourteen different FlatFish sizes in all. The FlatFish is also no slouch when it comes to color combinations; no fewer than ninety-four variations are available, including four new "Fire Tail" colors: Lime, Chartreuse, Tutti-Frutti, and Hot Fire Tail.
Created by:
Charles Helin
Manufacturer:
Yakima (current manufacturer)
The Flatfish will produce the best results when fished slowly. A slow retrieve will ensure that the lure realizes its now famous side-to-side wobbling action. Be sure to tie the Flatfish directly to your line. A small snap can be used, but a snap-swivel is not recommended.