March Freshwater Lure of the Month: Mepps Trophy Series Spinner
When French engineer Andre Meulnart invented the Mepps spinner in 1938, it wasn't long before he realized it was an extremely effective fishing lure. He didn't realize, however, he had invented a lure that would revolutionize the fishing tackle industry. It would take a World War and an unusual series of events to do that. It would also take the vision of a man who could see the lure's full potential.
Todd Sheldon discovered the Mepps spinner in 1951. Owner of a successful tackle store in downtown Antigo, Wisconsin, he was having a bad day on Wisconsin's Wolf River. Determined to try something different, he tied on a small Mepps spinner that had been given to him by Frank Velek, a WWII GI who had returned from Europe two years earlier. Within two hours, he had creeled four trout weighing more than twelve pounds total.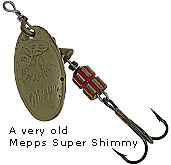 Todd Sheldon was hooked on and began selling Mepps spinners, but soon discovered he couldn't get enough. Velek knew a French woman who sent spinners to the sport shop in exchange for nylon stockings. However, the lures were selling faster than she was wearing out her stockings, so Todd began buying his lures directly from Meulnart's factory.
Soon, other fishermen were experiencing catches like the one Todd took from the Wolf. But, they were catching all kinds of fish, not just trout. As the Mepps reputation grew, so did sales. In 1956, Todd sold his store and formed Sheldons', Inc. to focus his attention on his growing import trade.
The Mepps Trophy Series features all the colors preferred by trophy salmon and steelhead fishermen throughout Alaska, the Pacific Northwest and the Great Lakes.
Available only in sizes #4 and #5, these Mepps spinners are designed for anadromous fish, from their perfectly formed eye down to their computer age extra sharp, strong hook. Available with either treble or single hooks. Blades and bodies are solid brass. Environmentally safe. No lead components.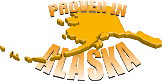 The spinner shaft is stainless steel to resist the elements. Silver blades feature genuine silver plating for maximum flash at all depths and under all water and light conditions. Painted blades and bodies feature brilliant epoxy finishes that are both fade and chip resistant. If you're planning a fishing trip to Alaska, these spinners were designed with you in mind.