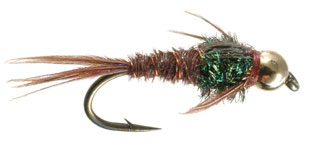 May Freshwater Fly of the Month: Nymph Head Pheasant Tail Flashback
There are over 600 mayfly nymph species, of which most are brown, and very similar in appearance to the pheasant tail nymph.
Originally tied by Frank Sawyer, the Pheasant Tail Nymph is one of the oldest of modern nymphs. A few good wrinkles have been added over the years, such as the peacock thorax, optional beadhead, etc., but when you peel them away, it's still Sawyer's elegantly simple, generically suggestive, devastatingly effective nymph.
this pattern has been tweaked over the years, with a bead to sink the fly and catch a trout's attention, and flash to appear like an emerger.
The Pheasant Tail nymph is one of the most utilized nymph patterns in the history of the sport for the simple reason that it works almost anywhere.
The heavy metal Nymph-Head Pheasant Tail Flashback-Olive that we are featuring as this month's FishingEnthusiast.com Freshwater Fly of the Month enhances traditional
nymph flies
. These fishing flies catch big fish. With the extra-heavy
tungsten
bead head and chemically sharpened hooks, you can't beat the quality or success this fly brings.
The Nymph-Head fly portfolio is designed to be a more realistic and attractive option to a series of proven fly patterns. The most successful trout flies are fishing flies that can imitate a wide variety of insect life. With already successful patterns like the Copper John, Pheasant Tail and Hares Ear as the base for this category, and now you can Nymph-Head tungsten beads to that mix. Not only do these bead heads keep the fly in the strike zone longer, but also provide a realistic and color-consistent fly profile for catching trout.
At the end of the day, fish rely on color, proportions, and profile to decide what to eat. These flies catch more fish.