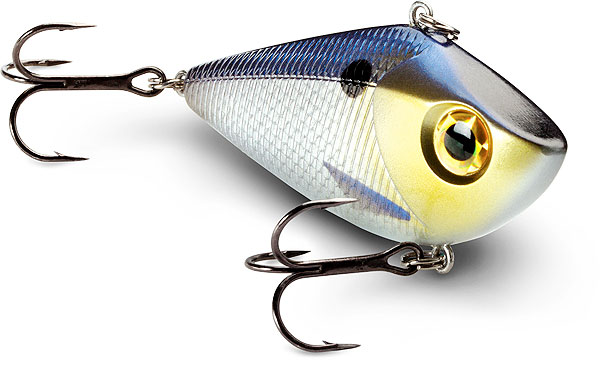 August Freshwater Lure of the Month: Storm Rockin Shad
The Classic Thin Fin profile goes lipless with the Strom Rockin' Shad Lipless Crankbait. Offering a strong vibrating body, the Rockin' Shad's multi-ball rattle is raspy and loud when ripped or retrieved. On the fall, the Rockin' Shad sinks head down with a side to side "Rockin" action, transmitting an intermittent cadence rattle. Graced with external scales and 3D Holographic Eyes, the Rockin' Shad's exterior adds a sense of realism. Backed with premium black nickel VMC treble hooks, the Storm Rockin' Shad means business. Available in a variety of killer colors, the Storm Rockin' Shad is ready to Rock!
Loud rattler with classic Thin Fin profile
Strong vibrating action with normal retrieve or ripping technique
On the drop the bait sinks head down with side to side rockin' action
Variable dive and depth sinking lure
Great search bait for bass and pike- throw this on the end of your line and you will surely get bit!
Review from Kevin Bullington:
"Very thick bait. With a thicker bait, you get a harder rocking crank bait. So, some people like this because you can feel every bit of it. Most crankbaits you can feel really well, but with this one there is a little more rock to it, a little more thickness to it. Generally speaking, lipless crankbaits are great casting baits, and this bait is one of the better if not the top 3 lipless crankbaits for casting performance."
To learn more click below!
https://www.youtube.com/watch?v=SAP1FjTKGJA